All-year crop cover Agro Marina MAX 21g
All-year crop cover Agro Marina MAX 21g is a new product by the Agrimpex company, produced in the Agro Marina technology – an innovative mechanism thanks to which the crop cover transmits water immediately after application.
All-year crop cover Agro Marina Max 21g is a response to our customers' needs – it was created with a view to exercise a protective function throughout the year, in summer protects against overheating and scorching sun, during winter holds frost off, while in autumn and spring keeps away wind and protects against sudden temperature fluctuations.
Agro Marina Max is also responsible for the water deficit in the ground by increasing the humidity under the cover and thus preventing soil water loss, provides crops with optimum vegetation conditions and, owing to its exceptional flexibility, allows them to grow freely.
Crop cover Marina Max 21g is also ideal protection against undesirable insects.
For more details, contact one of our sales representatives.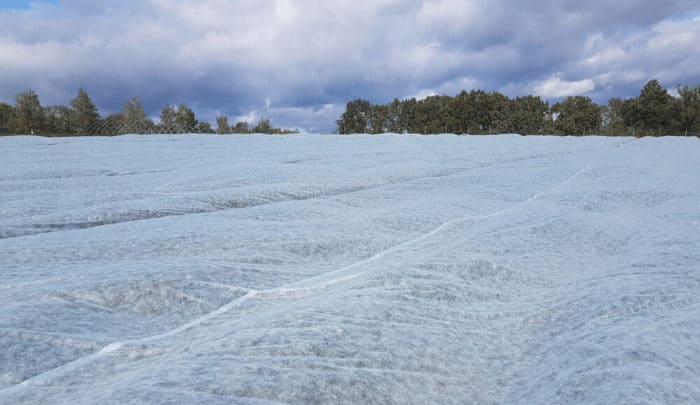 By the use of our crop cover with the Agro Marina technology, plants can be watered by rain immediately after seeding and covering, plus they will not be crushed by the soaked material which could damage a young seedling. Not only does the Agro Marina technology not restrict the growth of young plants, but also supports their development. In order to easily recognize the textile with the Agro Marina technology, we have replaced its previous white color with a light blue one.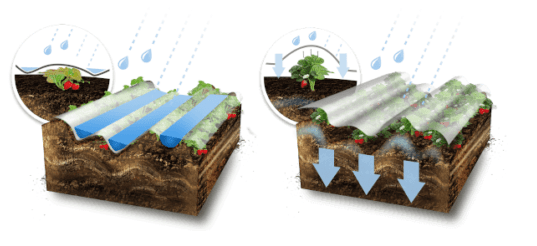 Comparison of the working of an ordinary crop cover with the one equipped with the Agro Marina technology
All-year crop cover Agro Marina Max means:
MAXimum use – only one crop cover used all year round for protection,
MAXimum efficiency,
MAXimum harvests, because the nonwoven fabric accelerates and increases harvests,
MAXimum protection against sudden changes in weather, insects and crushing plants by the material soaked with water,
MAXimum benefits provided by one product.
Product
Weigth g/m2
Width
Length
Agro Marina MAX
21 g
6.35
100
Agro Marina MAX
21 g
9.50
100
Agro Marina MAX
21 g
12.65
100
Agro Marina MAX
21 g
15.80
100
Agro Marina MAX
21 g
18.95
100
Agro Marina MAX
21 g
22.10
100
Agro Marina MAX
21 g
25.25
100

There is a possibility to prepare crop covers of a different length on request.

For more details, contact one of our sales representatives
See more information about the all-year crop cover Agro Marina MAX 21g